ARCO® Silicone Press Releases
At ARCO®, we leverage our heritage in rubber manufacturing, defined by industry-leading innovation, to provide comprehensive silicone rubber products and services.
ARCO® Silicone, a division of Alliance Rubber Company, is a leading provider of elastomer products, including natural latex rubber, and now, silicone rubber.
Silicone is the "go-to" elastomer for engineered products which are intended for use in an ever-growing range of applications. Our in-house team of design engineers has had the opportunity to work closely with clients to identify problems, prototype and test 3D components, and create solutions for full production.
Our dedicated team specializes in 3D prototyping and short-run services for client testing. With over 95 years experience in the manufacturing industry gleaned from hundreds of projects, there is a solid bank of knowledge to draw from. To learn more about our milestones and newsworthy announcements read the press releases below.
ARCO® Silicone Announces Custom Silicone Production to its Capabilities
ARCO® Silicone, with 95 years experience in custom extrusions, has added custom silicone profile extrusion to its production capabilities.
ARCO® develops product content and physical design profiles to meet customers' specified needs in custom silicone bands, cording, and tubing (open or closed cell foam tubing or solid tubing) including the durometer, color, dimensions and performance characteristics required by the customer.
ARCO® has produced custom profiles that offer wide environmental temperature ranges, UV, Ozone, Chemical and Oil resistance, fire-retardant features as well as the ability to meet specifications set for direct food contact packaging.  Another aspect of ARCO's silicone extrusion is the company's printing capability. The company can imprint product information, logos or graphics on one or both sides of a profile.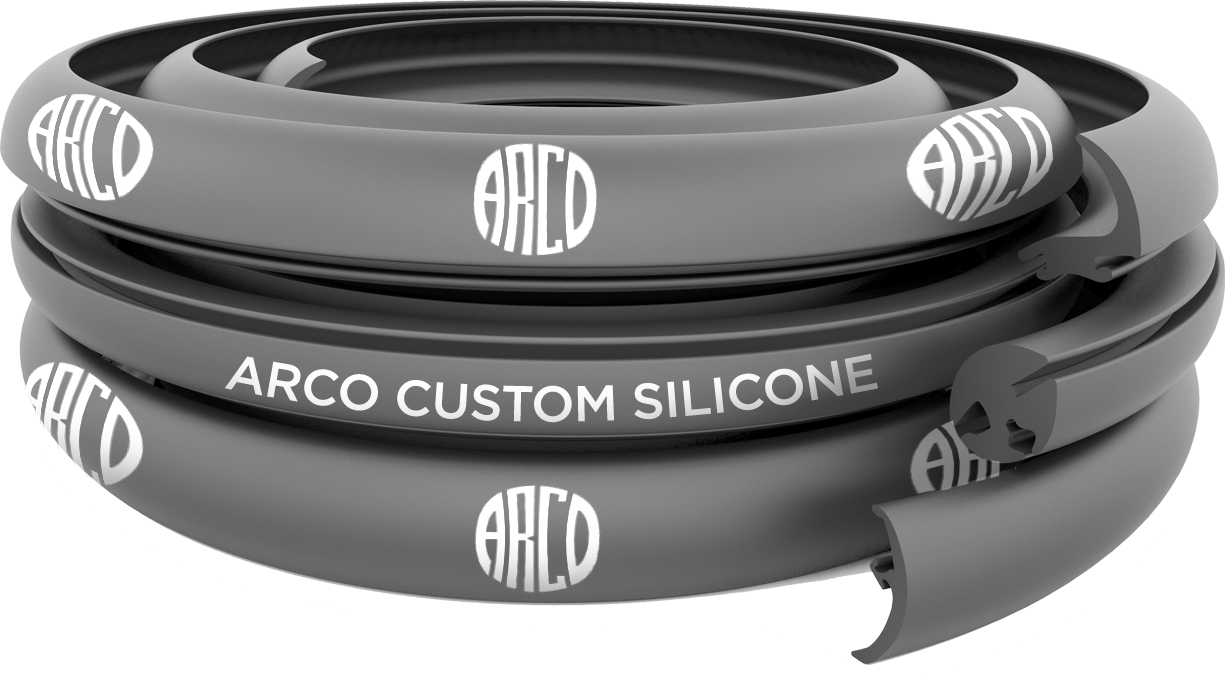 "As a 95-year-old, family-owned manufacturing company, we have consistently delivered quality and innovative products to our customers," said Bonnie Spencer Swayze, president of the parent company, Alliance Rubber. "We are proud to offer another new product for use in food processing, to meet military standards, the  specifications required by manufacturing companies or the many other industries that call for the attributes of silicone profiles."
ARCO® Silicone is a division of Alliance Rubber, one of the world's largest rubber band manufacturers. The company is based in Hot Springs, Arkansas. The family-owned small business has been producing custom extruded products since 1923.
"We are always looking for new challenges to address and look forward to learning more ways we can adapt our skills to working with silicone," Joan Dennis, Marketing Manager of ARCO®, said.
Celebrating 100 Years of American Manufacturing
[HOT SPRINGS, Ark., March 7, 2023] – Alliance Rubber Company, The Parent Company to ARCO Silicone, Celebrates 100 Years in Business
On March 7th, 2023, Alliance Rubber Company, a woman-owned small business, U.S. manufacturer of rubber bands, and the source for hundreds of bundling and branding solutions serving the global community, will celebrate its Centennial Anniversary. This marks 100 years of Alliance offering the benchmark rubber bands and highest quality options for "Holding Your World Together."
It all began with William H. Spencer, who left his Franklin, Kentucky, home in 1904 at the age of 13. Traveling by rail to seek adventure, he found himself in Alliance, Ohio, in 1917 with less than $3 in his pocket. After working for the Pennsylvania Railroad for six years, Mr. Spencer began cutting bands by hand from rejected bicycle inner tubes and on March 7th, 1923, started Alliance Rubber Company.
So, how does an establishment providing a simple little device such as a rubber band set itself firmly in the annals of American business? The answer is simple – ELASTICITY. Just like their products, throughout the last century, Alliance Rubber Company has doggedly stretched and flexed to meet the demands of the current market, to remain always sensitive to the pressures of the present environment, and to be always in touch with the needs of their customers.
Alliance Rubber Company has continually developed its manufacturing principles to perfect processes, boost innovation, and reduce time to market in a fast-paced, volatile, ever-changing global marketplace. Continuing to manufacture its products in the USA enables Alliance to supply high-quality products, fast service, and fresh stock that is built to last.
Alliance Rubber Company credits its success to the heritage of hard work, innovation, and dedication from the greatest resource any enterprise can ask for: a diverse group of outstanding individuals who come together to be the greatest rubber band makers in the world. The culture at Alliance Rubber Company is to respect and value diversity and inclusion, and the belief that diversity continues to be the key to success. The local community has continually recognized Alliance Rubber Company as one of the best places to work, and in 2021, they received the Governor's Award for Excellence in Global Trade from Arkansas Governor Asa Hutchinson. Additionally, Alliance Rubber Company has been named "Supplier of the Year" many times through the years by some of the largest retailers in the world.
ABOUT ALLIANCE RUBBER COMPANY:
Alliance Rubber Company is an American manufacturer that rises to meet the economic, cultural, and social pressures that embody the business environment today. Founded in 1923 by William H. Spencer, and now in its fourth generation of family ownership, Alliance Rubber Company has grown into a thriving American success story. With over 2,400 SKUs of mailing, shipping, office, and packaging products sold through distributors in over 60 countries, Alliance remains the only manufacturer of rubber bands in the U.S. For more information about Alliance Rubber Company and the humble, indispensable rubber band, please visit one of their websites: www.RUBBERBAND.com | www.AdBands.com | www.ARCOSilicone.com