ARCO® Understands Customer Requirements for Recipe Development
ARCO® has silicone technical specialists and field service representatives who listen to what customers need. Because of silicone's flexible chemical structure; ability to restore its original size and shape after being stretched, compressed, and twisted in demanding applications; our chemists can modify and improve its properties and enhance its performance to meet an array of functions in thousands of applications, in nearly any industry around the world.
Using our Request For Quote process, we collaborate with customers to determine whether they need us to develop a custom formulation, use one of our existing formulas, or use their recipe for mixing.
We gather information that helps deliver the right silicone solutions, such as:
Specification / Physical Requirements
Customer Process for Curing
Physical Forms of Compounded Product
Application
ARCO® then uses this information to modify the chemical structure of silicone rubber to achieve the exact properties needed for the application.
"In the Spring of 2021, during the peak of Pandemic impact and concern, our company found itself needing a new supplier for custom injection-molded silicone components.
Our former supplier was located overseas and was simply not able to meet our needs due to delayed communications, pandemic restrictions, and sudden quality issues.
We were fortunate to find ARCO during our search for a supplier within the United States for custom, medical-grade, injection-molded silicone components.
From the start of our communications, it was clear that the ARCO team was responsive, knowledgeable, service-oriented, and eager to earn our business.
In less than 2 months, our company was able to have a custom tool manufactured, completed chemical compatibility trials with the silicone compound, and received estimated dates for the completion of a three-lot validation. During this time, we worked closely to address questions and communicated via recurring meetings.
During our validation process, we encountered some minor issues that needed to be resolved, and this is when the amazing dedication and service-oriented attributes of ARCO became clear.
The ARCO team had one of their senior engineers assist with diagnosing and correcting the identified issues. We were very fortunate for the expertise of ARCO personnel, and specifically the engineers during this time, as it allowed us to complete our validations in a short timeframe. Our team is VERY thankful for the level of service demonstrated by the ARCO Silicone team, as they helped us overcome a significant shortage issue that left a number of our customers in backorder status for extended periods of 2021.
We appreciate the support from the ARCO Silicone team, and want to say, Thank You! We know where to turn for our future needs of injection molded silicone components."
One of our distributors spoke with us about our new silicone extrusion capabilities. He indicated that his company has a large market for silicone gripper cords. One client, a large food processor, has a consistent need for a silicone cord for use in processing product in their plant.
We found that within our own production facility, we often use similar cording on our machinery. We ran a test batch and used them in-house to determine the quality and found that the gripper cords we produced were of a higher quality than those currently used. Samples of these gripper cords were then sent to our mutual distributor to forward to their client.
The client was happy with the samples, and the distributor has decided to fulfill the silicone gripper cord orders they receive with those produced by our company. <<Read More>>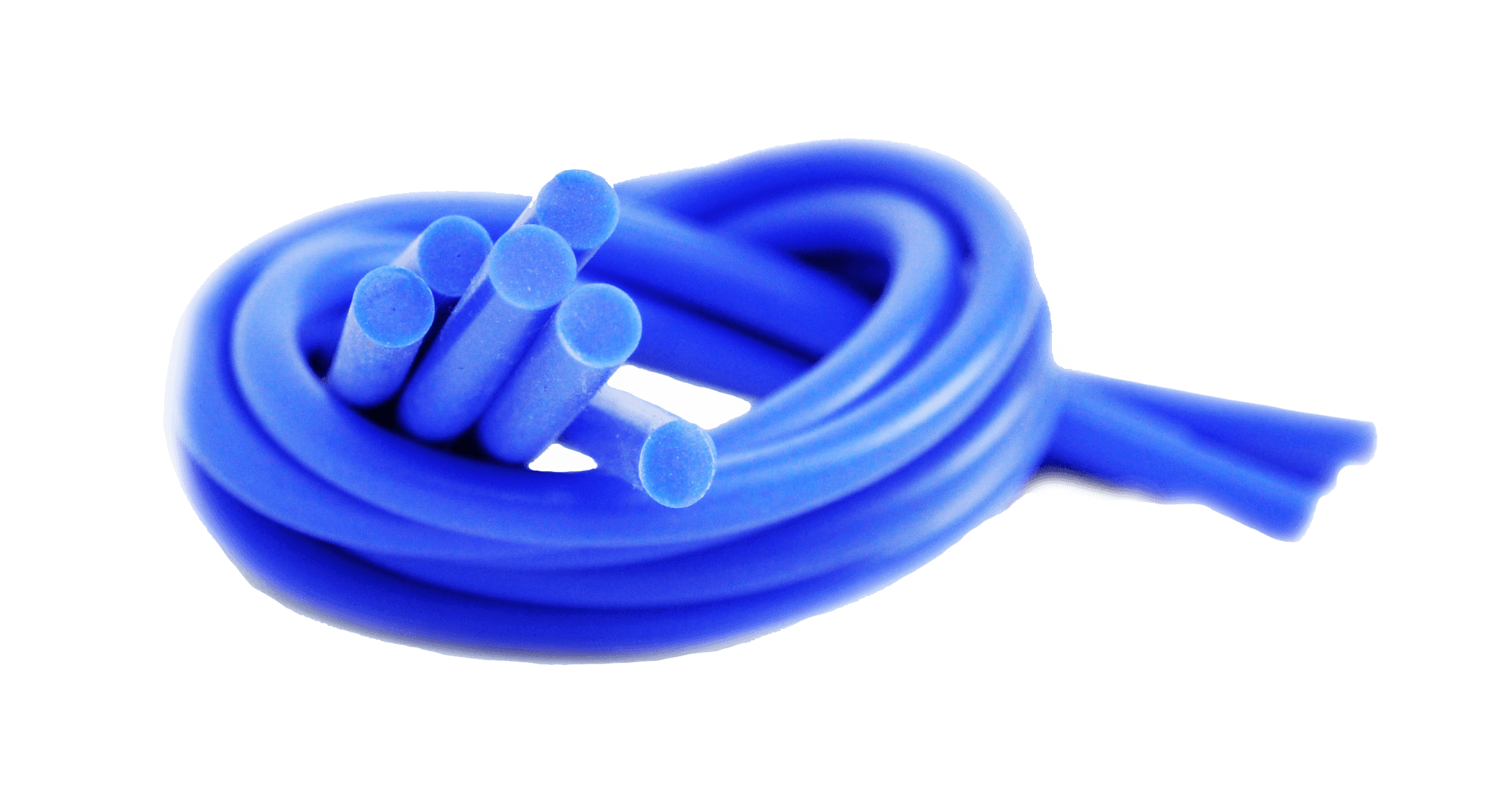 Flame Retardant
Silicone Bands
We were contacted on behalf of a manufacturing company that produces connectors, hand tools, testers, and meters for the electrical and telecommunications industries.
The client required that the band contain a formulation that met specific UL (or Underwriters Laboratories' plastics flammability standard) requirements and supplied us with the durometer, shore, tensile strength and elongation information for the finished product to meet their needs. Our team developed a compound material that would meet the client's requirements.
In-house tests for UL 94V-0 flammability compliance were performed on sample bands produced from the developed compound. It was determined that the bands were not affected in any way by a 2000˚ F direct flame. In addition, a blow-torch that could reach temperatures up to 6000˚ F was applied to the testing process. The compound bands would burn at these high temperatures but would self-extinguish when the torch was removed.
Once extruded, our team provided a sample to the client so they could run their own compliance testing. <<Read More>>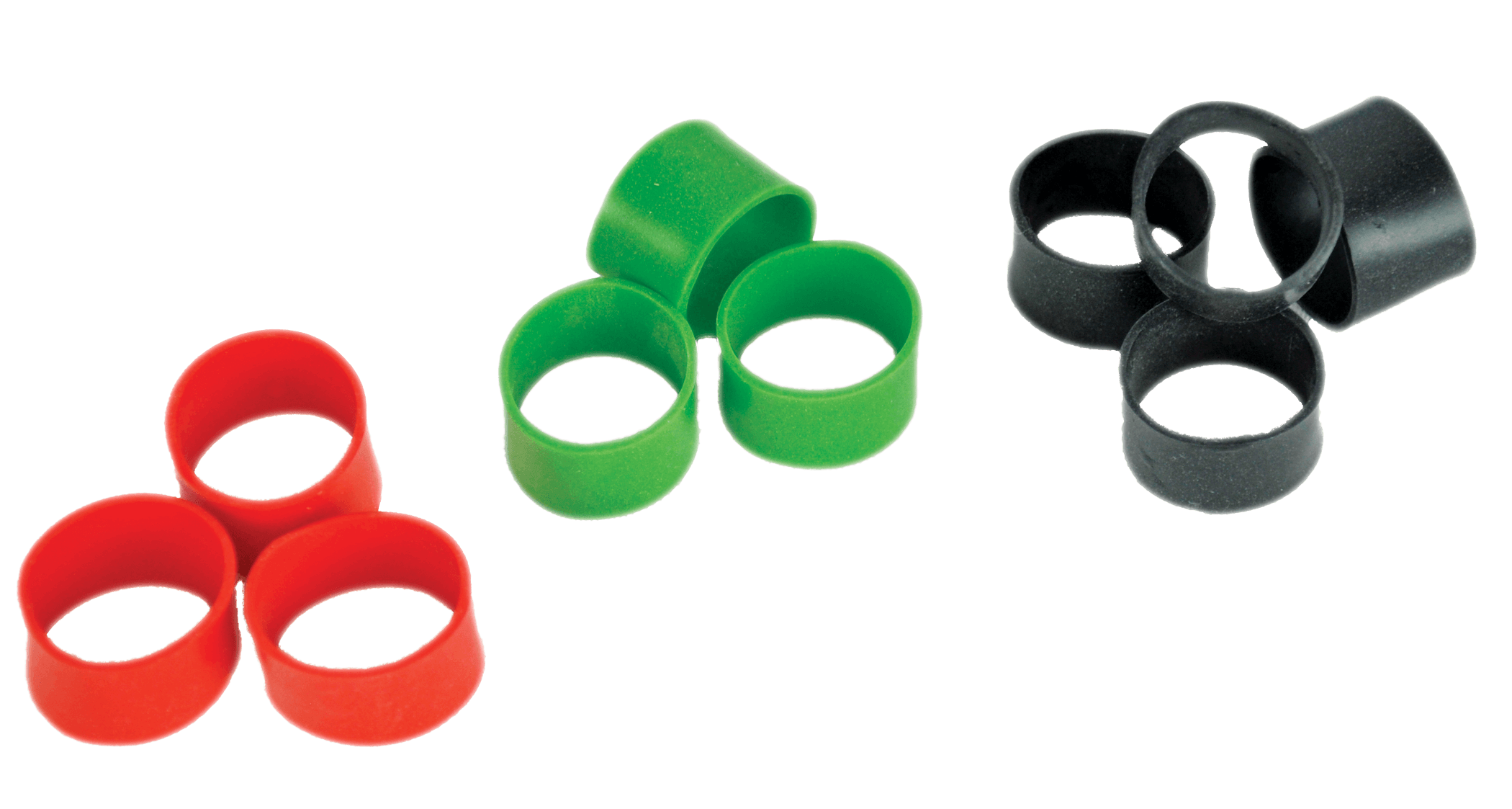 We were contacted by a distributor on behalf of their client, a large chemical company in search of a silicone rubber band to act as spacers on a roller functioning in a hot environment. Engineers at the client's facility knew some, but not all of the specific traits of this particular band. They provided physical drawings, but those drawings only contained the dimensions and tolerances and stated that the bands were a specific color silicone with talc coating. They were very secretive regarding any process usage details.
To best meet the client's needs it was imperative that we obtain the most specific finished product requirements possible. To achieve this, we asked the client to send samples of the existing bands for further testing. To protect the client's manufacturing information we signed a Confidentiality Non-Disclosure Agreement. From the samples received, we were able to determine the shore durometer of the material and verify the bands were a silicone profile. Burn testing was performed to determine the heat tolerance level required in the finished product. We were then able to take the information from the sample bands supplied and reverse engineer an exact band to meet the chemical company's needs.
Samples of our silicone rubber bands were supplied to the potential customer. The samples supplied to the customer passed their in-house testing and they have forwarded samples to an independent lab for 3rd party testing. <<Read More>>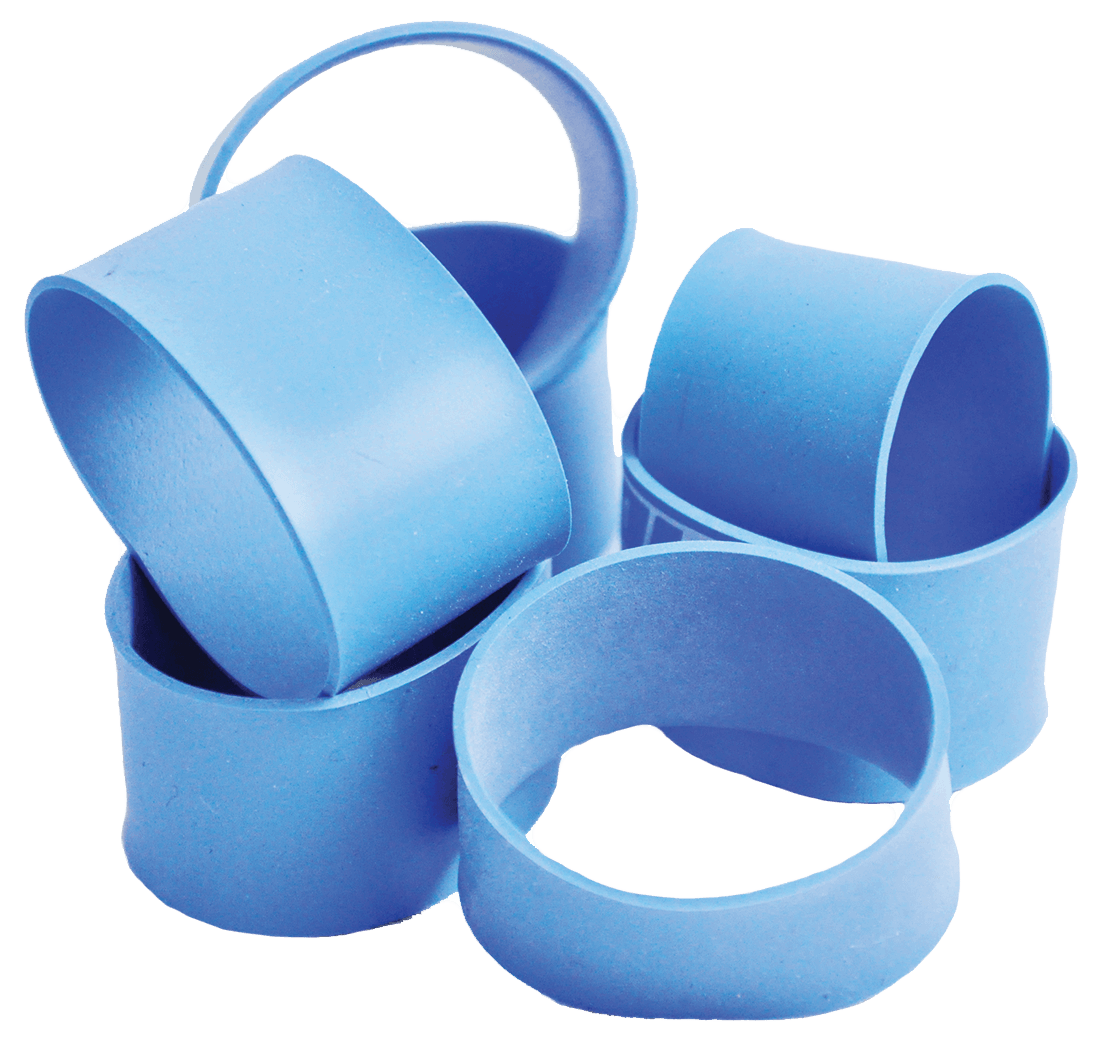 A distributor contacted us on behalf of one of their clients. They were made aware of our plans for silicone extrusion by our sales division in late 2017. When an opportunity for a silicone profile presented itself several months later, they reached out to obtain a quote for specific tubing. The distributor provided us with the cure process, color of the finished product, dimensions, shore value cut-length measurement, and packaging requirements.
The client uses these tubes to load volatile material. It was imperative that the client have a product that could fit the specifications given and could be produced on a consistent basis.
Manufacturing confirmed that the tubing could be produced and a final sales quote was sent within two business days after receiving the specifications. The overall quote turn around was quick due to the thorough information received.  After receiving the quote, the client requested a sample of the product, and the samples were produced and forwarded.
The sample sent had talc which the potential customer did not like initially. However, shortly following their original reaction the weather became hot and the tubing they were currently using started sticking together. They decided they had renewed interest in talc on the profile.  <<Read More>>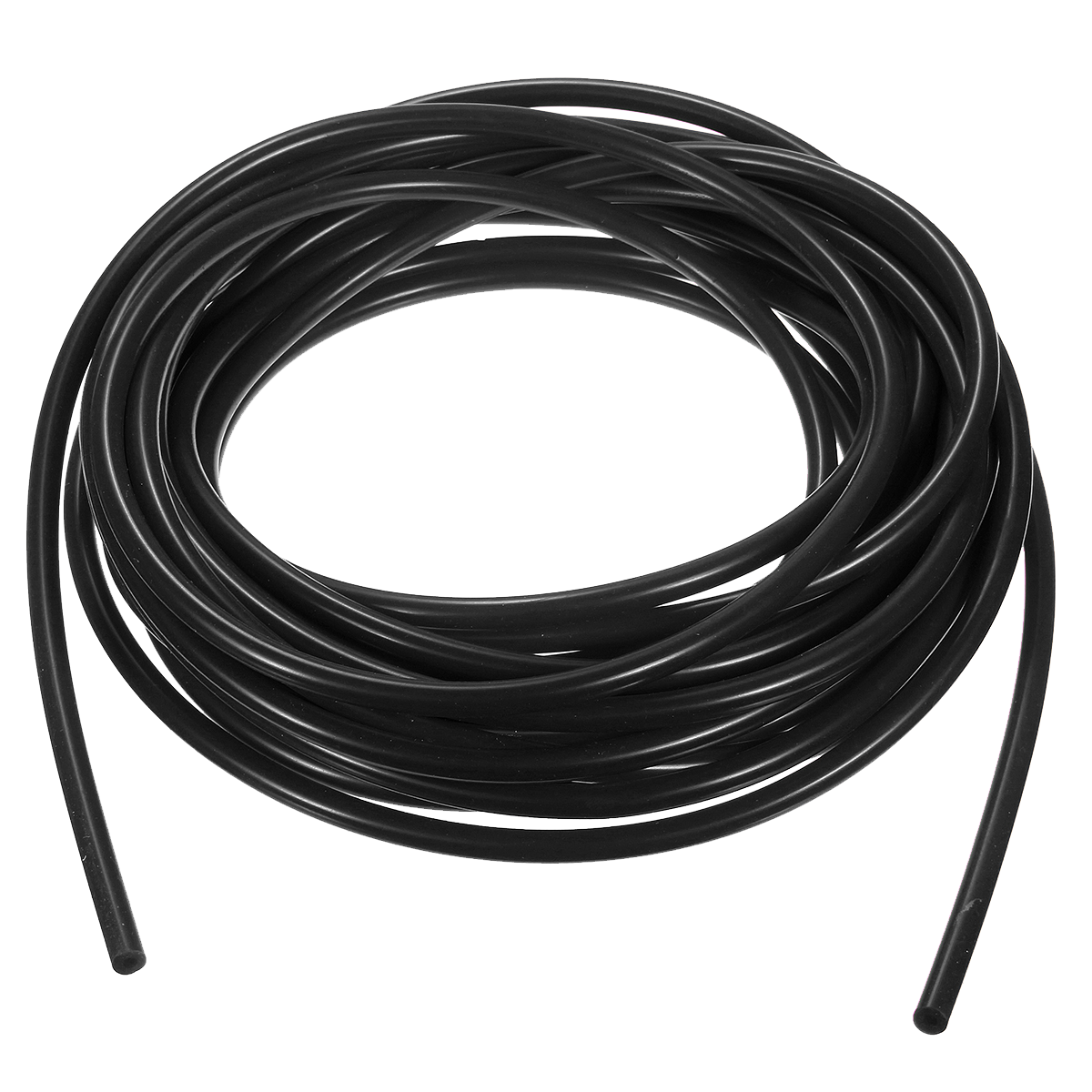 Beef Processing Stomach Bands
One of our distributors contacted us on behalf of a client, a large meat packing plant, to see if we could produce a silicone band for their customer. The current rubber bands used were standard rubber bands. The stomach and innards were contained in a bag cinched by the bands. The bands would often malfunction causing unnecessary delays in processing. The bands would come loose allowing the bag contents to spill into the carcass which could contaminate the meat. The customer wanted to achieve the following: 1 band to replace the 2 they were using; and a silicone band as opposed to rubber. The customer selected the dimensions they wanted for the new bands.We did make some assumptions – first, that they wanted silicone for its strength, longevity, and the non-latex for direct food content attributes. And, second, while most rubber bands do not maintain their tight hold in a refrigerated environment, silicone bands will. The specifications required to meet the customer's needs were determined – a band with a tighter grip and less stretch could best be achieved using a silicone compound. Samples were sent via the distributor for their customer to test.  <<Read More>>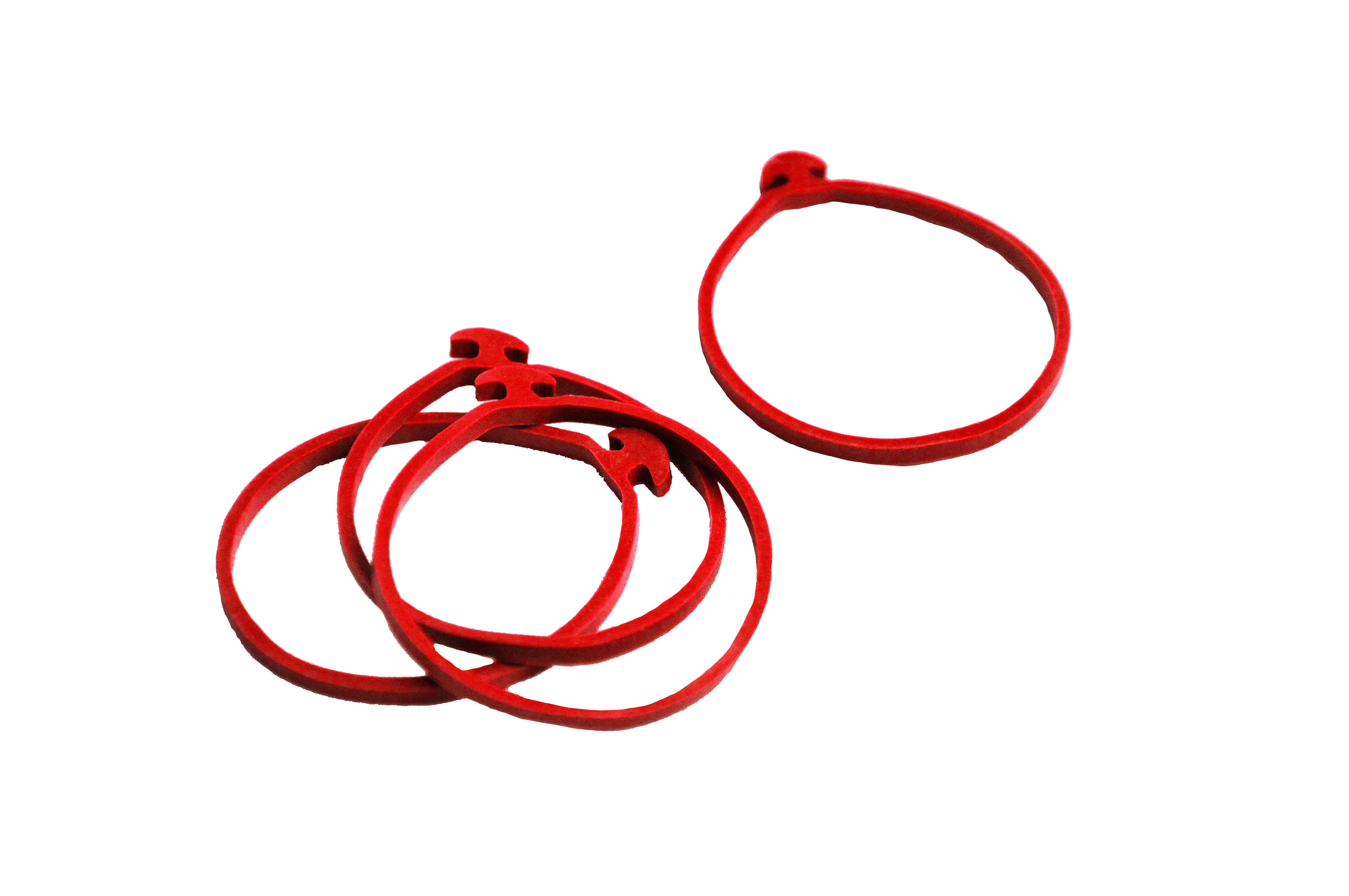 Solid Silicone Conduit Tubing
This distributor requested we provide samples for their customer of silicone conduit tubing. Based on the samples provided our team performed some reverse engineering and presented the customer with 3 options:
1. Blue, closed cell, foam tubing with a specific shore durometer.
2. Solid blue tubing with a different shore durometer.
3. Solid white tubing with a softer shore durometer.
They chose and are purchasing option 2.
<<Read More>>